Workstream Adjustable Gas Spring Desk Mount for 15~34in Monitors by Monoprice
Workstream Adjustable Gas Spring Desk Mount for 15~34in Monitors by Monoprice

Monoprice Gas-Spring Adjustable Articulating Monitor Arm let you place your LCD display wherever you want it. Suspending the monitor up off your desk, the arm reduces desktop clutter and frees up valuable desk space. Even better, the counterbalanced gas-spring arm lets you easily adjust the monitor to the most comfortable position, helping reduce strain on your neck, shoulders, and eyes. The Gas-Spring Adjustable Articulating Monitor Arm enables endless monitor adjustment and smooth movement in any direction, including height up and down, extension / retraction forward and back, monitor tilt, swivel, and rotation for ideal ergonomic alignment. And unlike the competition, our mounting arm is rated for large monitors including most 34 inch models, making it perfect for any home or office.
Full-Motion Articulating Desk Mount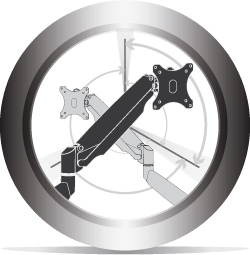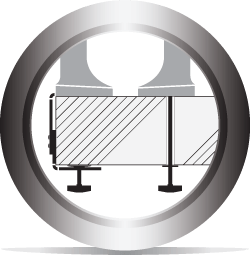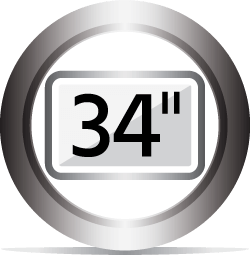 Smooth Full-Range Motion
Easy Setup
Supports Most 34" Monitors
Smooth Full-Range Motion: Effortlessly raise, lower, pull, push, and adjust your monitor with gas-spring assistance for the perfect working position and most comfortable viewing angle.
Easy Setup: Organize your workspace and clear desk space by raising your monitors off the desk surface. Setup is quick and easy using the included edge clamp or grommet mount, so you'll be ready to go in minutes.
Supports Most 34" Monitors: The monitor arm supports up to 19.8 lbs. of weight, making it capable of supporting most 15 inch ~ 34 inch monitors. The high-strength steel and aluminum construction guarantees enduring quality.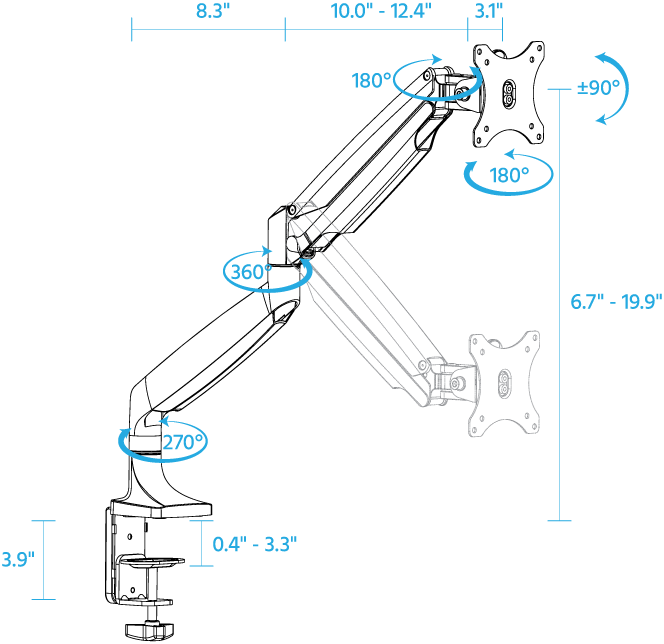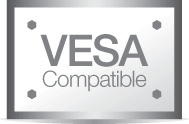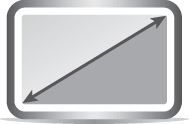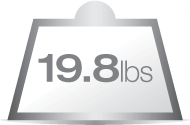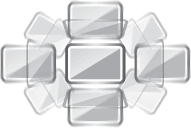 75 x 75 & 100 x 100
15" ~ 34"
Aluminum & Steel Construction
Up to 19.8 lbs.
Full-range Motion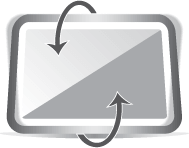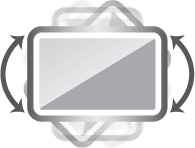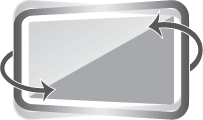 Tilt ±90 degrees
Rotate ±90 degrees
Swivel ±90 degrees
Cable Management
Effortless Installation
Compatible with displays with 75 x 75 and 100 x 100 VESA® patterns
Supports most 15 inch ~ 34 inch (38 cm to 86 cm) displays
Constructed of high-grade aluminum and steel
Supports one display weighing up to 19.8 lbs (9 kg)
Gas-spring pneumatic assist makes free motion effortless
Displays can be individually swivelled ±90° to get the optimum viewing angle
Rotate displays ±90° to easily switch between landscape and portrait display orientations
Cable management clips help keep your workstation neat and tidy
Easy installation flexibility with clamp or grommet mounting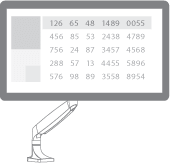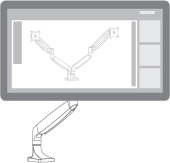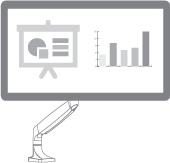 Financial Pros
Designers
Offices
Support Files:
WORKSTREAM™ and the WORKSTREAM logo are trademarks of Monoprice Inc.
VESA® is a trademark owned by the Video Electronics Standards Association (VESA®) in the United States and other countries.
How long will it take for my order to arrive?
After the order has been placed, shipping takes about 3-4 business days.
How much do I have to pay for shipping?
Free shipping for orders from 30€.
What are the returns policy?
You can return your items to us within 14 days without giving a reason. We expect the items to be in their original condition upon return.
How does the return work?
If you do not like an article, you can return it to us within 14 days of delivery. Please contact us at eusupport@monoprice.com to receive a return label. Please print the return label, stick it on the carefully sealed package and hand it over to your local post office. Please keep the document with the tracking number carefully.