Monolith 81.28 cm Speaker Stand (Each) - Black | Supports 45 kg (100 lbs), Adjustable Spikes, Compatible With Bose, Polk, Sony, Yamaha, Pioneer and others by Monoprice
Monolith 81.28 cm Speaker Stand (Each) - Black | Supports 45 kg (100 lbs), Adjustable Spikes, Compatible With Bose, Polk, Sony, Yamaha, Pioneer and others by Monoprice

The Monolith™ Speaker Stand is an ideal pedestal for the home theater speakers in your entertainment system. Sturdy steel columns provide incredible strength and rigidity to support up to 100 lbs (45 kg). The Monolith Speaker Stand is the perfect way to display your speakers! It comes in singles, not pairs, so if you need 3, 5, or 7 you will not be stuck with a leftover stand.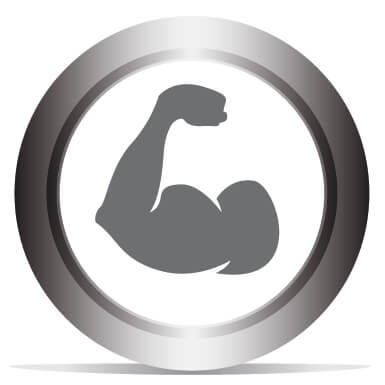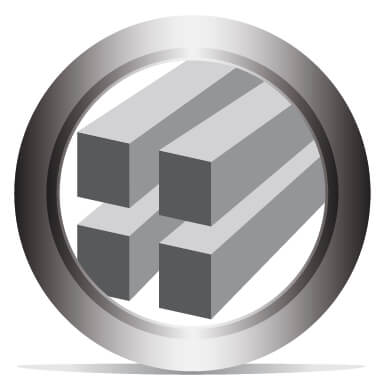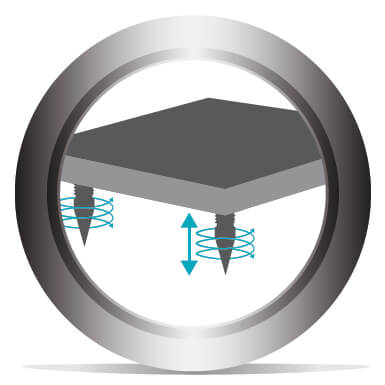 Sturdy Construction: Four steel support columns feature a scratch-resistant black powder coat finish. The result is a rigid platform outfitted with a satin finish that cleans easily and resists scratches and scuffs. Each stand is 32 inches tall and is acoustically inert. Four soft rubberized top pads are supplied to protect your speaker from scratches and to further isolate your speaker from unwanted acoustic vibrations.
Rectangular Columns: All four support piers can be filled with sand or steel shot for the ultimate in vibration dampening. This will further reduce any unwanted vibrations or resonances that can color the sound and reduce fidelity.
Adjustable Spikes: Each stand comes with adjustable spikes to pierce through your carpet and isolate the stand and your speaker from floor vibrations and resonances.
---
Sturdy & Stylish Steel
The steel support columns bring together durability and a sleek design.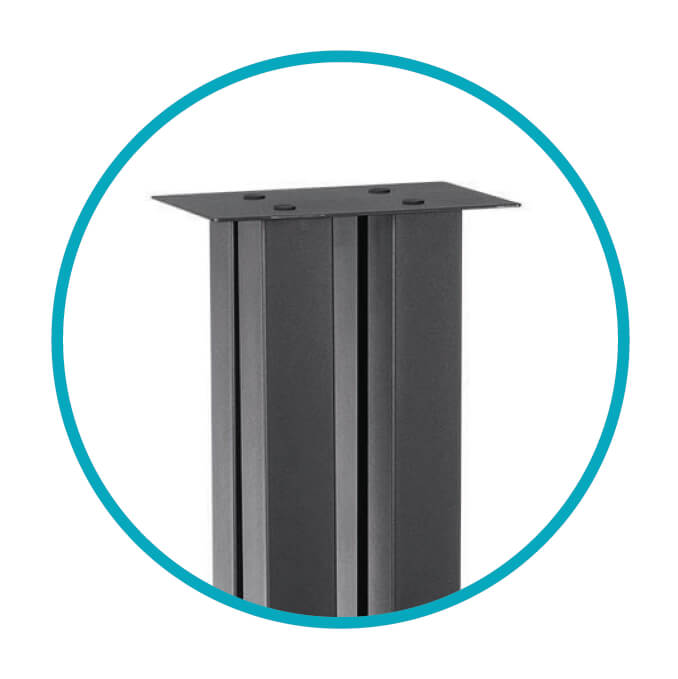 ---
The Perfect Speaker Support
Acoustically inert strength and rigidity to support even the heaviest of components and devices.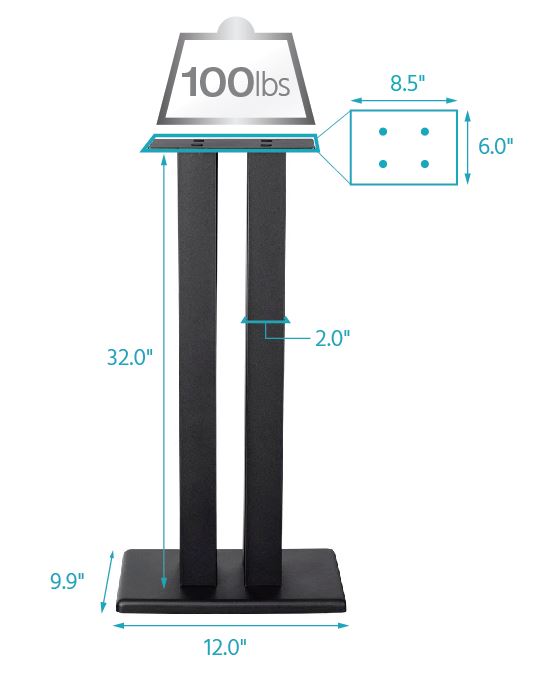 Monolith™ is a trademark of Monoprice Inc.
How long will it take for my order to arrive?
After the order has been placed, shipping takes about 3-4 business days.
How much do I have to pay for shipping?
Free shipping for orders from 30€.
What are the returns policy?
You can return your items to us within 14 days without giving a reason. We expect the items to be in their original condition upon return.
How does the return work?
If you do not like an article, you can return it to us within 14 days of delivery. Please contact us at eusupport@monoprice.com to receive a return label. Please print the return label, stick it on the carefully sealed package and hand it over to your local post office. Please keep the document with the tracking number carefully.