MP10 300x300mm Build Plate 3D Printer | Magnetic Heated Build Plate | Resume Print Function | Assisted Leveling | Touchscreen
MP10 300x300mm Build Plate 3D Printer | Magnetic Heated Build Plate | Resume Print Function | Assisted Leveling | Touchscreen
Easily accessible magnetic extruder: The removable magnetic carriage provides an easy launch point for changing to an extruder system of your choice. Working on your machine is more convenient than ever.
2 Screw Hotend Removal: Access to your hotend is easy, making quick changes to the tool head possible. Switch from a 0.4mm to a 0.6mm nozzle without the hassle of actually changing the nozzle. Quick, convenient, and easy.
Heated, Removable, & Flexible Print Bed: Capable of easily hitting 100 degree C, this large 300 x 300 print bed makes removing prints easier than ever. The magnetic platform alos makes cleaning and removing the bed itself simple and straightforward.
Assisted Bed Level Sensor: Leveling is easy with the level sensor. It will detect differences in the bed, which allows you to set an accurate Z offset to make first layers a breeze.
Dual Y Gantry: The dual Y gantry provides a stable base for the printbed, minimizing wobble found in single Y gantry models of 3D printers. This results in cleaner prints and prevents the need to level over and over again.

Product SKU:

134577

The MP10 is a feature rich 3D printer with a 300x300 heated, flexible, and removable steel spring build plate, and an all metal extruder. It has an assisted level sensor on its magnetic extruder assembly, allowing easy changes to the Z offset in the menu for easy and perfect first layers. Wiring is no issue, as all of the components are already prewired and ready to go, with the connections hidden in the cable management sleeve. The Resume Print funtionality allows a print to be resumed after a power outage, power failure, or a sudden power loss from accidental unplugging. Most importantly, prints are crisp and clean.
Easily accessible magnetic extruder:
The removable magnetic carriage provides an easy launch point for changing to an extruder system of your choice. Working on your machine is more convenient than ever.

2 Screw Hotend Removal: Access to your hotend is easy,  making quick changes to the tool head possible. Switch from a 0.4mm to a 0.6mm nozzle without the hassle of actually changing the nozzle. Quick, convenient, and easy.


Heated, Removable, & Flexible Print Bed: Capable of easily hitting 100 degree C, this large 300 x 300 print bed makes removing prints easier than ever. The magnetic platform alos makes cleaning and removing the bed itself simple and straightforward.

Assisted Bed Level Sensor: Leveling is easy with the level sensor. It will detect differences in the bed, which allows you to set an accurate Z offset to make first layers a breeze.

Dual Y Gantry: The dual Y gantry provides a stable base for the printbed, minimizing wobble found in single Y gantry models of 3D printers. This results in cleaner prints and prevents the need to level over and over again.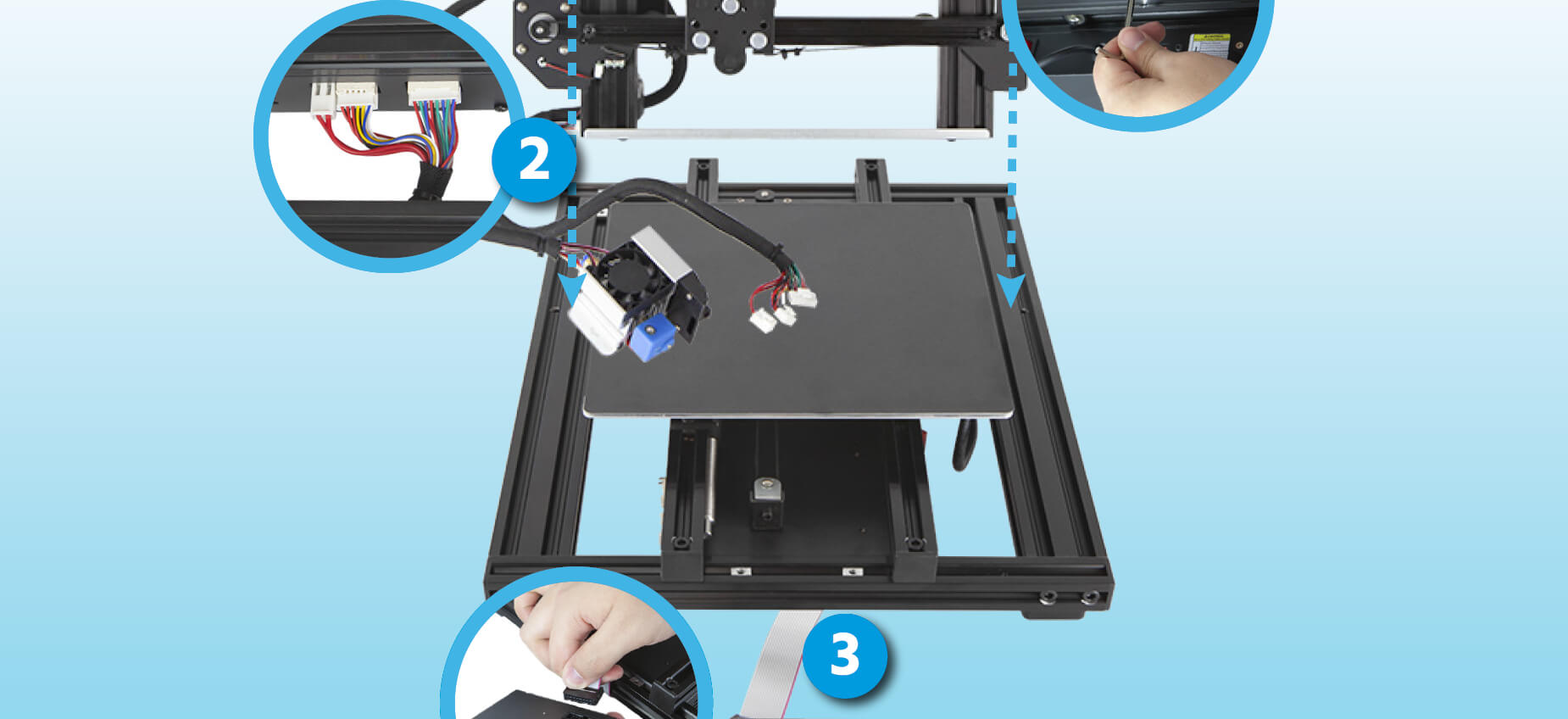 15365/21711

34438

34437

33820

15710

 
MP Select Mini
3D Printer V2
Maker Plus 10 Mini
3D Printer
Maker Plus 10
3D Printer
Voxel Adventurer
3D Printer
Ultimate
3D Printer
Build Area
120 x 120 x 120 mm
200 x 200 x 180 mm
300 x 300 x 400 mm
150 x 150 x 150 mm
200 x 200 x 175 mm
Resolution
100-300 microns
50-300 microns
50-300 microns
100-400 microns
20-200 microns
Filament Diameter
1.75mm
1.75mm
1.75mm
1.75mm
1.75mm
Nozzle Diameter
0.4mm
0.4mm
0.4mm
0.4mm
0.4mm
Hotend Setup
Bowden
Bowden
Bowden
Bowden
Direct
Print Speed
up to 55 mm/sec
up to 100 mm/sec
up to 100 mm/sec
up to 100 mm/sec
up to 150 mm/sec
Maximum Extruder Temperature
250°C
280°C
280°C
240°C
260°C
Maximum Build Plate Temperature
60°C
110°C
110°C
100°C
100°C
Heated Built Plate
✔
✔
✔
✔
✔
Removable Build Plate
 
✔
✔
✔
 
Filament Sensor
 
✔
✔
✔
 
Calibration
Manual leveling
Assisted leveling
Assisted leveling
Assisted leveling
Manual leveling
Camera Monitoring
 
 
 
✔
 
Connectivity
Color touchscreen, Micro USB, microSD™ card, Wi‑Fi®
Touchscreen, Micro USB, microSD™ card, Wi‑Fi®
Touchscreen, Micro USB, microSD™ card, Wi‑Fi®
Color touchscreen, USB drive, Wi‑Fi®
LCD screen, USB, SD™ card
Supported Slicing Software
Cura, Repetier-Host
Cura, Repetier-Host, KISSSlicer
Cura, Repetier-Host, KISSSlicer
MP Flashprint, Slic3r, Skeinforge, Cura
Cura
Support Files:
Certain filaments that can be used with this product may contain a chemical known to the State of California to cause cancer or birth defects or other reproductive harm.
SD™ and microSD™ are trademarks of SD-3C, LLC.
Microsoft® and Windows® are either registered trademarks or trademarks of Microsoft Corporation in the United States and/or other countries.
Wi‑Fi® is a registered trademark of Wi‑Fi Alliance.
How long will it take for my order to arrive?
After the order has been placed, shipping takes about 5-7 business days. Our warehouse is located in the Netherlands.
How much do I have to pay for shipping?
The shipping is free for all orders in the EU. For deliveries to countries outside of the EU shipping costs may apply.
What are the returns policy?
You can return your items to us for free within 14 days without giving a reason. We expect the items to be in their original condition upon return.
How does the return work?
If you do not like an article, you can return it to us within 14 days of delivery. Please contact us at eusupport@monoprice.com to receive a free return label. Please print the return label, stick it on the carefully sealed package and hand it over to your local post office. Please keep the document with the tracking number carefully.